Veterinary Care in Kilgore, Texas
When it comes to medical care, your pets deserve nothing less than the very best. At Kilgore Small Animal Hospital, we are 100% committed to maintaining the good health and well-being of your pets. Contact us today to schedule a checkup for your beloved pets.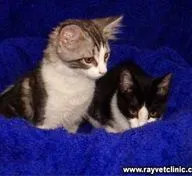 Patient Examinations
Kilgore Small Animal Hospital offers complete physical examinations for your pets. If you are concerned about the health of your pet, we will discuss surgery, vaccination, and treatment options to help you find the best solution at the lowest price.

Certified Animal Care
Kilgore Small Animal Hospital is certified and approved by the American Animal Hospital Association. This certification means that we maintain the highest standards of pet care in the veterinary field. Your pets are in good hands with us.

Vaccinations
Protect your pets from illnesses with our pet vaccinations. We offer vaccinations for all the most common pet ailments, including...
Rabies

Canine Distemper

Canine Parvo

Canine Influenza

Leptospirosis

Feline Leukemia

Feline Distemper Complex

Grooming & Bathing

Lyme Disease

Emergency Surgery for Your Pets
If your pets require prompt medical attention, bring them to Kilgore Small Animal Hospital for emergency surgery services. We offer both common and advanced medical procedures to ensure that your pets stay happy and healthy.

Dental Treatments
Help your pets maintain good dental health with our routine teeth cleaning services. We offer dental prophylaxis services to keep teeth clean and prevent diseases of the mouth, tongue, and gums. Proper dental care is a key step in prolonging the life of your pet.